What You Should Know About Oil and Gas Today
The Big Story
Another week, another hurricane. That's what it must feel like at this point to the people of Louisiana. After getting hard hits from Hurricanes Laura and Marco just a couple of weeks ago, the state is now again in a state of emergency as Hurricane Sally bears down for a direct hit on New Orleans, where it is scheduled make land fall on Tuesday as a Category 1 Hurricane: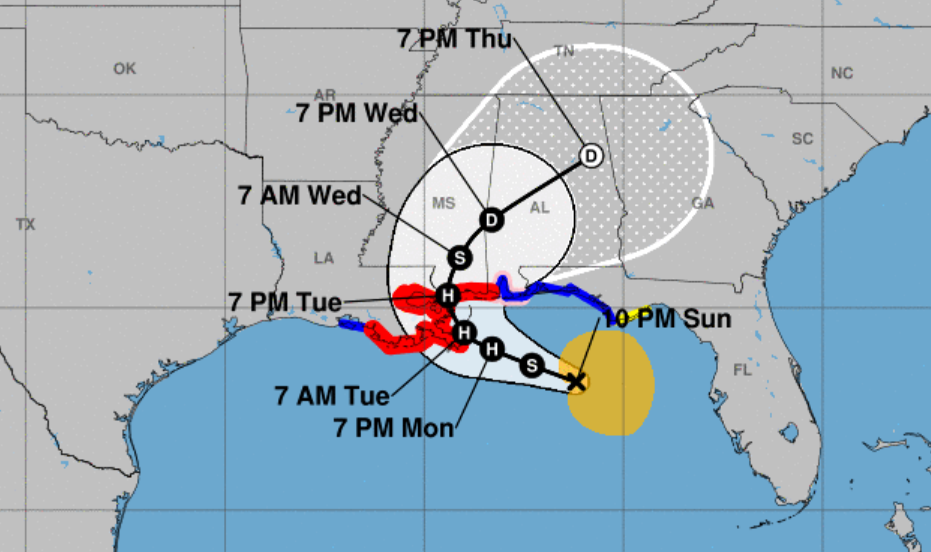 Unless Sally's current projected track changes, the storm will have only a modest impact on the oil and gas industry. Platforms and drilling operations in the Gulf of Mexico to the south and east of New Orleans will be temporarily shut down, as will the various refining facilities in the New Orleans area. But those shutdowns will have only a modest impact on overall Gulf production and Gulf Coast refining outputs. Again, as was the case with Laura, everyone should hope and pray that the storm moves quickly out of the coastal region to minimize any disastrous flooding impacts and then plays itself out rapidly as it moves up through Tennessee and destinations to the north and east.
Meanwhile, in other news...
BP and Shell have strong communications operations, and those operations generated some good press today with the release of a letter that advocates for the Texas Railroad Commission to aspire to an ambition of "net zero natural gas flaring" in the future.
Bloomberg published a booster piece
on the letter that is now being amplified throughout the remainder of the energy media, including here, as it turns out. But the reality is that there are no teeth behind the letter, which does not specify any certain date at which the RRC should achieve this laudable goal, nor does either company make any date-specific commitments by which they plan to reach it. Great PR, though. Good work, folks! You typically don't see $50 oil until it arrives. - David Bledsoe, the President of Henry Petroleum in Midland, is
quoted by the Midland Reporter Telegram
as saying"It's hard for me to see oil prices getting out of the $40s for about two years," David Bledsoe, president of Henry Resources, told the Reporter-Telegram by email. "When the world has 8 million barrels – mainly from OPEC – off the market, it seems impossible for oil prices to improve until demand recovers and all of the excess capacity is taken." While it's pretty hard to argue that point in the abstract, the history of the oil and gas industry is chock full of examples of the industry being taken by surprise when prices surge based on events that were unforeseen just months before. Paul Takahashi has
an interesting opinion piece
at the Houston Chronicle today, titled "A long road back for oil and gas". Takahashi anecdotally notes that his family has spent just a few hundred dollars on gasoline over the past several months, just about 25% of the amount they spent over the same time last year. No doubt, many families have similar stories to tell amid our nation's insane reaction to the coronavirus. It's an interesting read that asks valid questions about how and when oil demand will fully recover. Takahashi also
reported over the weekend
that the oilfield services sector has now shed 103,000 jobs during the COVID-19 crisis, but that the layoffs are now slowing dramatically. The sector reported just 2,600 jobs reductions during the month of August. Texas suffered the most losses with 59,000, followed by Louisiana with more than 10,000, and Oklahoma with over 9,000. This would be a huge development for U.S. LNG. Don't look now, but German Chancellor Angela Merkel, under pressure from the U.S. and other countries, is seriously considering the cancellation of the infamous Nordstream 2 pipeline that would bring large volumes of additional Russian natural gas into Western Europe.
CNBC speculates today
that she is unlikely to do so given that the project is nearing completion, but it becomes much harder for the German government to criticize the Trump Administration for removing thousands of U.S. personnel from their soil - ostensibly there to protect against a Russian invasion - when they are cozying up to the Russians in this manner. That's all for today. [/vc_column_text]