Here are 10 things you need to know about oil and gas for April 3, 2020:
Trump calls on Russia and Saudi Arabia to cut oil production – Excerpt:
The Trump administration is pressing OPEC to hold an emergency meeting as early as next week to try to end the standoff in the oil market that has threatened to cripple the U.S. oil industry, three industry and government officials familiar with the talks said.
The U.S. pressure is aimed at persuading Saudi Arabia — which has also called for a meeting — and Russia to declare a ceasefire and reverse the export increases that have drowned the global market in crude even as the coronavirus pandemic has decimated international demand.
The White House has not yet decided who, if anyone, it would send to a possible OPEC meeting next week, the industry and government officials said. Candidates included Secretary of State Mike Pompeo, Department of Energy Secretary Dan Brouillette and Trump's son-in-law and adviser Jared Kushner, the people said.
Oil Extends Gains As OPEC Leaders Call Emergency Meeting To Discuss Trump Production Cuts – Well, guess the pressure from the President worked, as OPEC called a special meeting overnight. The cartel will hold its meeting next week via "emergency teleconference," which one supposes must be more urgent than just your ordinary, everyday OPEC teleconference.
OPEC+ Debates Biggest Ever Cut as Virus Destroys Oil Demand – It's worth noting that Russia's oil minister denied the narrative told in this New York Times report, but Russia says all sorts of things that end up not being accurate. Let's hope this is one of them.
Editorial: Trump wields EPA to help, not regulate, oil and gas – Wellllllll, not exactly, but the Administration has relaxed a few of the vast regime of federal regulations on the industry in response to the current crisis.
OPEC Middle East Oil Flows Surged After Production Deal Collapsed – Excerpt: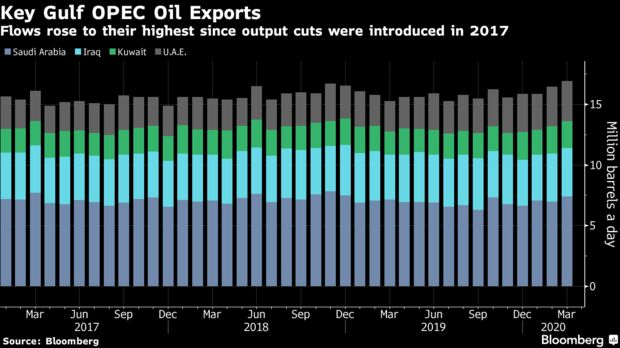 OTC cancels Houston conference as coronavirus pandemic worsens – America's largest annual oil and gas conference falls victim to the coronavirus. Very sad.
President Trump faces big oil today and OPEC+ calls an urgent meeting – Excerpt:
The president's triumphant tweet Thursday that Saudi Arabia and Russia are open to substantial production cuts quickly gave way to fears in some quarters that the U.S. and other non-OPEC producers would have to join them in slashing output to achieve the goal of giving severely depressed prices a boost.
And Trump will likely face a bitterly divided oil industry when he meets with energy executives Friday to discuss the perilous state of world crude markets and the threat to U.S. shale fields.
Oil soared as much as 35% after the presidential tweet, then pared gains after Saudi Arabia and Russia didn't confirm they had agreed to any cuts. The Saudis called for an urgent meeting of the OPEC+ alliance — which includes Russia — to reach a "fair deal" that would restore balance in the markets, state-run Saudi Press Agency reported.
To satisfy Saudi Arabia's insistence that all share the burden, Trump would have to unify a fractious and discordant group of U.S. companies and states that haven't faced output restrictions in nearly half a century. That includes some 6,000 shale drillers that, until very recently, were responsible for soaring U.S. production.
Goldman Says Shale Might End Up Being a Winner of the Oil War – Interesting theory from Goldman Sachs.
Excerpt: Shale's high-pressured wells and short drilling time mean the industry is well positioned to benefit if the current plunge in oil causes long-term damage to production capacity, resulting in a price jump when demand returns, Goldman analyst Damien Courvalin said in a note dated March 31.
Shale-well frackers grind to a halt as oil prices collapse – Excerpt: Fracking companies, which pump water, sand and chemicals into wells to release trapped oil and gas, helped turn the United States into the largest oil producer in the world. The business became despised by environmentalists and politicians who called for fracking to be banned.
Now, with oil prices falling below the cost of production, oil and gas producers are canceling contracts and forcing providers to idle their giant pumps and vats of chemicals.
An estimated 31 hydraulic fracturing fleets, or 11% of those currently operating, were turned off in the last week, according to data from consultancy Primary Vision, and more than 40% of the 421 operating a year ago have been side-lined.
That's all for today.