What You Should Know About Oil and Gas Today
The Big Story
Oil and gas producers in the Gulf of Mexico were battening down the hatches over the weekend, shutting-in production, locking down platforms and evacuating staff as not one, but two tropical storm systems will threaten their operations this week. Refinery operators along the coast were making similar preparations.
The first system to enter Gulf, Tropical Storm Marco, is schedule to make landfall near New Orleans overnight Monday, packing winds up to 50 miles per hour, along with projected storm surges of 3 to 5 feet. Fortunately, projections that Marco would strengthen into a Category 1 hurricane as it marched through the warm waters of the Gulf failed to materialize.
NOAA currently projects Marco to skirt across the coast over to Houston on Tuesday and Wednesday before moving inland over Texas, dropping heavy rains along the way. It is not currently projected to produce the major flooding events seen in 2017 with Hurricane Harvey.
The projected path for Hurricane Laura, meanwhile, continues to slowly shift to the west. Laura is currently traversing the length of Cuba as a tropical storm, but is projected by NOAA to strengthen into a Category 1 hurricane shortly after it enters the Gulf of Mexico on Tuesday.
The storm's current projected path would have it making landfall just east of the Sabine River early Thursday morning, proceeding north into Arkansas before taking a sharp turn to the east and fading out over Appalachia by Saturday. This storm will pack a punch and a significant storm surge, and presents a real flooding threat to the big refining and LNG export facilities from Baton Rouge all the way down to the Houston Ship Channel.
The Bureau of Safety and Environmental Enforcement released a statement this morning estimating that 58% of oil and gas production has been shut in in advance of these dueling storm systems. The Gulf currently accounts for about 15% of U.S. oil production and 3% of the country's production of natural gas.
Very predictably, the fright reporting in the media is out in full force, with CNN stating that these back-to-back storm systems are somehow "unprecedented." It isn't, although it is fairly rare. We can also expect to see the standard reporting blaming this even on "climate change" even though the frequency of tropical systems in the Atlantic Basin during the 21st century has thus far been pretty much unchanged from that of the late 20th century.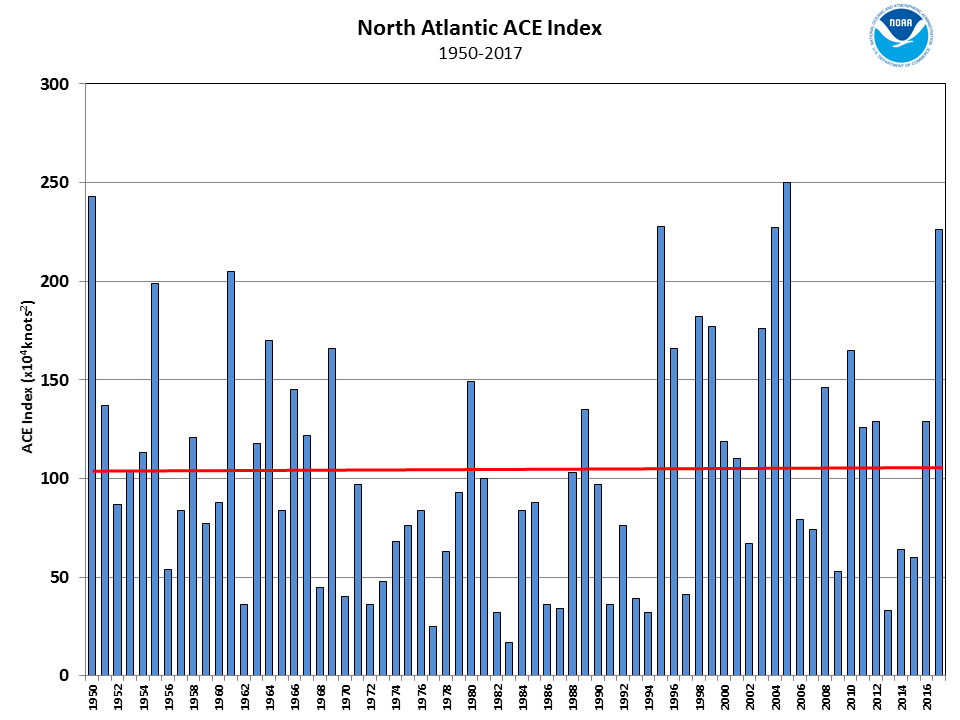 Chart courtesy of NOAA
This is just what the news media in this country does.
Meanwhile, in other news…
The Baker Hughes rig count broke its losing streak. It's not exactly "roaring back" as the sensationalists at Bloomberg claim, but the Baker Hughes rig count rose by 10 rigs last week, its first increase since January. That's great, but it's also just one week and could be statistical noise. Let's give it a few weeks to see if there's any sort of trend before declaring that anything in the U.S. oil patch is "roaring," ok?
Coincidentally, the frac spread count from Primary Vision also bumped up by 10 last week, and now stands at 80 active spreads in the U.S. While that is also great, it should be noted that this count had reached 80 in mid-July before falling back to 70. So, again, let's give it a few weeks to see if there is any real trend going on here.
An excellent op/ed in The Hill this morning by Jason Hayes, director of national policy at the Mackinac Center, detailing the reality that a Biden/Harris presidency would essentially end the oil and gas industry in the U.S. If you care about this industry and the myriad benefits it provides to the world, you should read this piece and take it to heart.
Wood Mackenzie released a new report indicating that, contrary to all the boosterism about the accelerating "energy transition" being pushed out by the news media for the past several months, the COVID-19 pandemic has actually set back the sales-growth for electric vehicles by a whopping two years. The truth, of course, is that this pandemic is a very mixed bag for renewables, and is likely to set back the entire "energy transition" for several years simply because broke governments are likely to be forced to scale back all the rampant subsidization of renewable fuels.
Of course, we aren't supposed to talk about that because it doesn't fit the prevailing narratives and virtue signals.
But I don't do virtue signals.
That's all for today.